Fast, crazy, thrilling and winner-takes-all. Racing like you've never seen before. Buy your complete board/sail/foil package from €4999 (youth), €7899 (women), €7999 (men)* and come join the fun.
The foil itself is available in Carbon, Aluminium and Junior versions.
*Prices excl. VAT
IT'S HERE: FROM WEEKEND RACES TO OLYMPIC GOLD. LET THE BEST SAILOR WIN.
"Lining up for race one was surreal, all the big names were present. Some of the best freestylers, PWA superstars and Olympic legends all on the line together was so, so 'LIT'. It felt like the windsurfing community had connected back together and it was the start of something special. 
The racing was the most overwhelming, craziest and dangerously radical I have ever witnessed. I don't think there will ever be an event more mind-blowing. " 
Tom Squires, GBR-931
Above: Sebastian Koerdel, winner of the first iQFoil Worlds in Lake Garda, Italy. Cover photo and above photo courtesy of iQFoil / Martina Orsini / Giovanni Mitolo
An early prototype for the Olympics Foiling project, known as The Concorde - circa March 2018.
A NEW ADVENTURE BEGINS
"It's been an amazing journey to get foiling into the Windsurfing Olympics. For our team, it all started one morning of January 13 2018, when Casper Bouman introduced me to Aaron MacIntosh who encouraged us to propose foiling for 2024.
In February, I visited Aaron in New Zealand just to have fun and go foiling together. By March, we formed the first working party: Remi Vila, Gonzalo Costa Hoevel, Nick Dempsey, Antonio Cozzolino and myself. I sent the iQFoil submission to World Sailing on January 31 2019 and the rest, as they say, was history. 
Special thanks go to Gonzalo Costa Hoevel for the incredible hours of testing and all work behind the scenes that continues to this day. Also to Svein Rasmussen for reaching out to Councils and MNAs, and finally Antonio Cozzolino who got us through each milestone and past the finish line.
After seeing Starboard's innovative Race foil flying with weekend racers, then adopted by PWA racers and then seeing Formula sailors and Olympians joining in, it was clear that the Race foil was a uniting force.  From this opportunity was born the iQFoil vision:
To inspire windsurfers of all levels, passionate weekend warriors, professionals and Olympians alike, to race together at a wide range of exciting events, on fair, simple and affordable foiling equipment of the highest performance.
We are very excited to see iQFoil grow. It's been a tremendous team effort to get this far. We're halfway there and thank you to all those who are supporting and contributing. Let's go!"
Tiesda You
With Kirian Badloe, Aaron MacIntosh and Dorian van Rijsselberghe
A complete iQFoil SET CONSISTS of three packages: the board package, the sail package and the foil package. Below are details about the foil packages.
IQFOIL FOIL: AVAILABLE IN CARBON, ALUMINIUM AND JUNIOR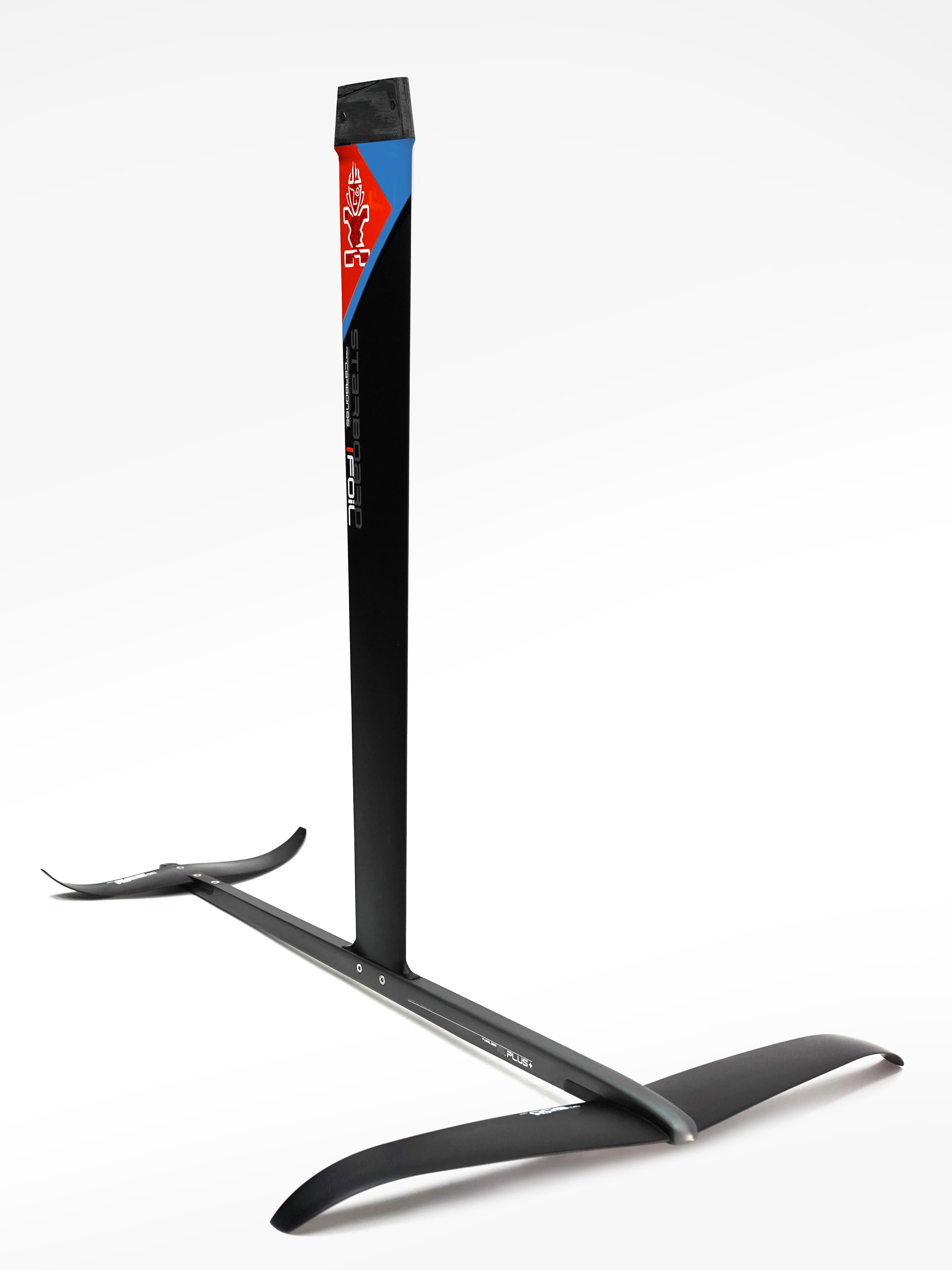 CARBON
The iQFoil Carbon is supplied with the iQFoil Carbon 95cm mast. It is stiffer and than the standard Carbon 95 mast, giving you more control and maximum flight stability, unlocking the next gear with ability to push further and with more confidence.
Fuselages: 115 Plus and 95 Plus
Front Wing: 900
Tail Wing: 255 -2°
Suitable for both Men and Women Divisions
ALUMINIUM
The iQFoil Aluminium is supplied with the Aluminium V5 95cm mast. It is built from an extrusion of 6061 aluminium, a grade of aluminium that we selected for its strength, weight and superior corrosion resistance. The V5 is extra-strong and extra stiff, making it suitable for windsurf foiling.
Fuselages: 115 Plus and 95 Plus 
Front Wing: 900
Tail Wing: 255 -2° 
Suitable for the Youth Division
JUNIOR
The iQFoil Junior is the same as as the Aluminium version but with a smaller 800 front wing, making the foil more suitable for lighter sailors. When transitioning from Junior to Youth, replacing just the front wing with the 900 makes the foil eligible for the Youth Division.
Fuselages: 115 Plus and 95 Plus
Front Wing: 800
Tail Wing: 255 -2°
Suitable for the Junior Division
WING DESIGN AND SELECTION
The 900 and 800 front wings are both high-aspect wings designed for all-round racing in medium to high wind conditions. The Tom Speer-designed profile is thin and relatively symmetrical, delivering speed with consistency. It has enough shape to provide constant lift and traction at various speeds. This is critical for negotiating low wind lulls, handling high wind gusts and making a wing you can trust all racing scenarios - overtaking, defending your line, recovering from small errors and foil jibing with confidence.
The 255 tail wing is the default tail wing for all foil racing. Thin, fast and super-efficient, it's a staple for your racing foil quiver even as it evolves. The gentle moustache shape helps with yaw-stability.
The iQFoil sets are supplied with the 255 -2° which allows for lower angles than the standard 255. This helps to increase speed and wind range in stronger winds.
THE IQFOIL FOIL USES THE "PLUS" CONCEPT.
Compared to the original Race, the iQFoil swaps the 115 Standard fuselage for the new 115 Plus fuselage. 
This new fuselage shifts the front wing forwards and reduces tail wing angle to make it more aligned with the front wing, creating what we call a High Efficiency Foil Geometry (NZ Pat. App. No. 751177). With both wings flying through the water at more parallel angles, you release more speed, you get quicker acceleration and more control.
"It's like someone released the handbrake" Gonzalo Costa Hoevel, PWA Foil Champion.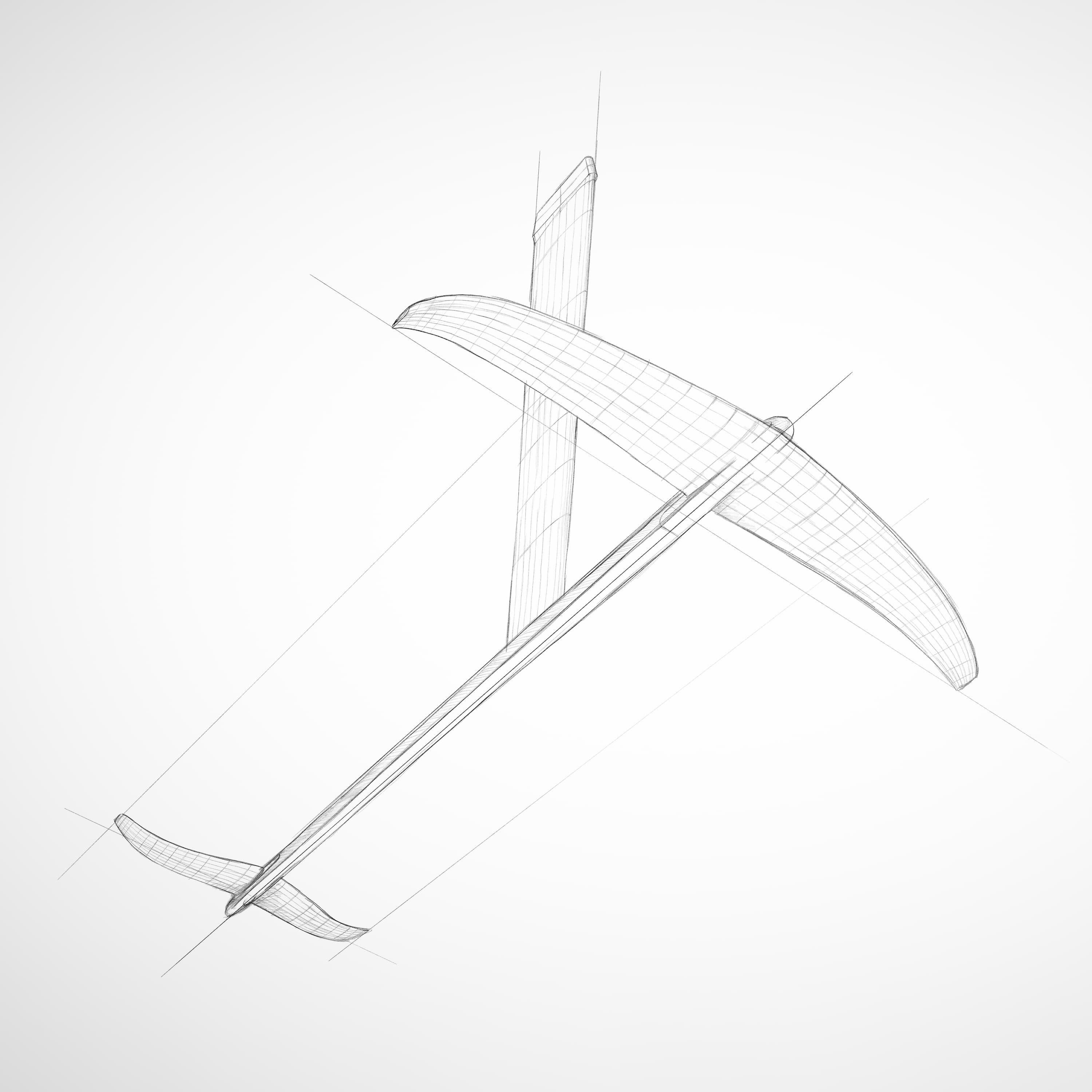 HIGH EFFICIENCY FOIL GEOMETRY - HOW DOES IT WORK?
Conventional Foil
In the diagram above, the weight of sailor and sail is producing an anti-clockwise moment. The foil creates an equal and opposite clockwise moment to maintain flight. Since the front wing position is closer to the mast, it has less clockwise leverage.
The tail wing therefore needs more angle compared to the front wing for the foil to generate enough total clockwise moment. More tail wing angle = more drag.
High Efficiency Foil Geometry
The front wing position is further forward so it has more clockwise leverage. The tail wing doesn't need to work as hard so it can be set at a lower angle. 
When the front wing and tail wing are closely aligned, there is less drag. You fly with more efficiency, more speed and more stability.
FRONT WING FITTING:
SADDLE SYSTEM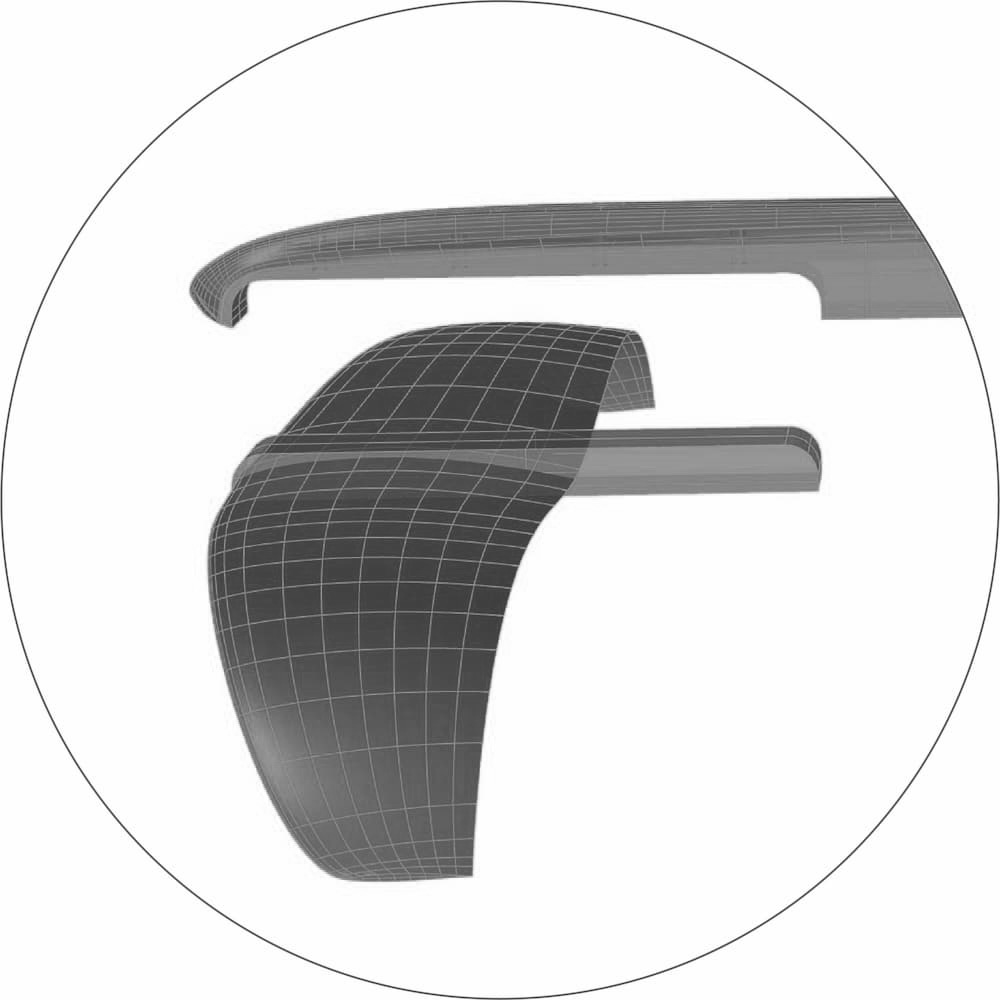 The iQFoil foil uses the saddle system for maximum connection stiffness. The front wing sits on a wide flat surface and locks in place via four countersunk M6 Torx bolts. The threads are anodized and reinforced with stainless steel helicoils for  strength and corrosion resistance. 
Will this fuselage work with other wings and masts?
Yes. This fuselage is compatible with all masts and compatible with all wings that use the saddle system. However, as a One Design class, using an item that is not an official iQFoil approved item would make the foil not eligible to race.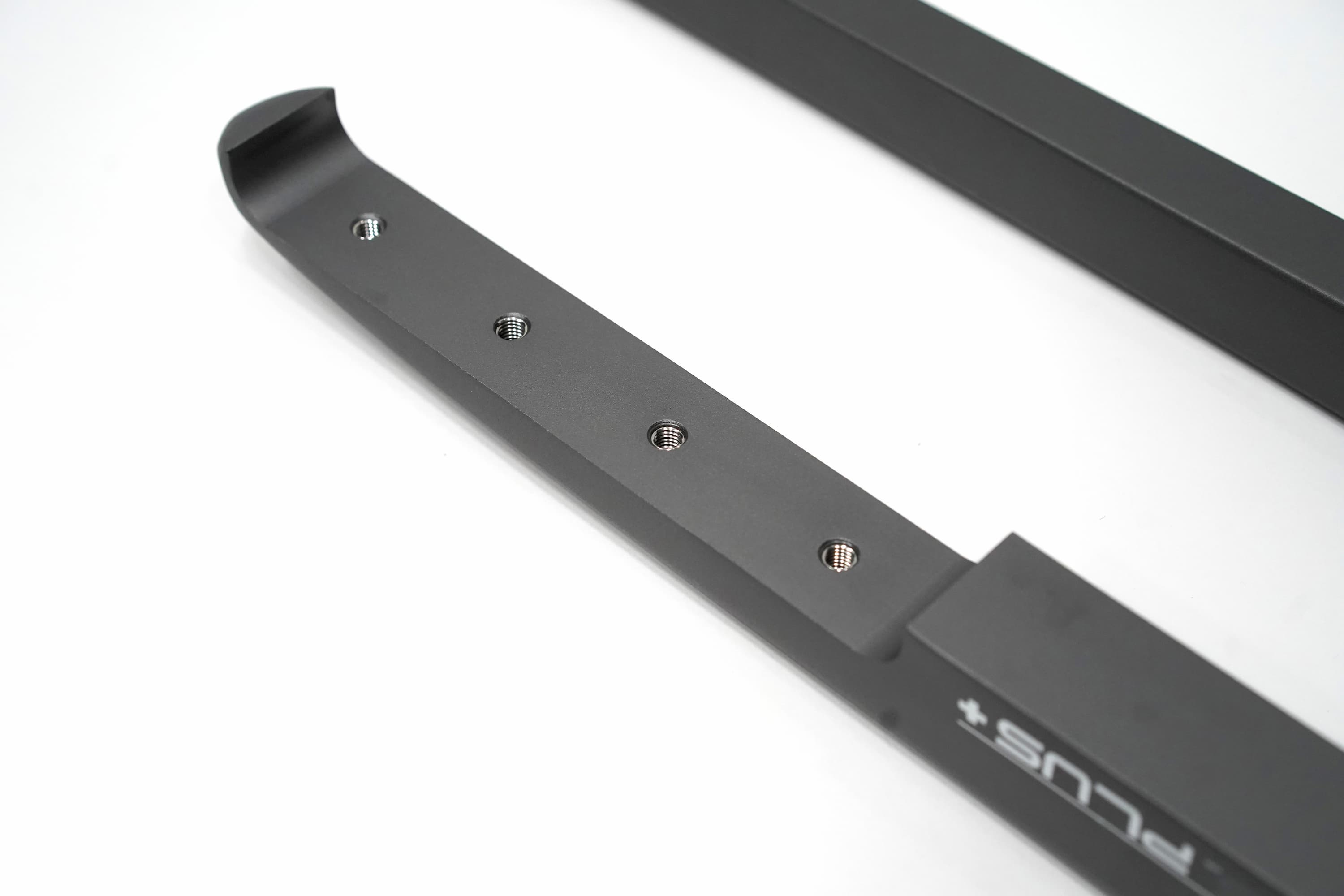 The tail wing also uses a saddle system. An angle spacer sits between the wing and the fuselage. Changing the angle spacers allows the rider to adjust tail wing angle to optimise performance based on wind speed and the desired flying configuration: more power or more control.
TUNING TIPS
TRIMMING YOUR TAIL WING
The iQFoils are supplied with six angle spacers ranging from -2 degrees to +1 degree. By default, because the tail wing has an in-built -2° angle, we recommend starting with the Tail Wing Angle Spacer of 0 degrees for the iQFoil when set on the 115 Plus fuselage and +1° when set on the 95 Plus fuselage.
| | |
| --- | --- |
| Wind Speed | Recommended Angle (115 Plus fuselage) |
| Strong | -0.5° to -2° |
| Medium | 0° |
| Light | +0.5 to +1° |
| Wind Speed | Recommended Angle (95 Plus fuselage) |
| Strong | 0°  |
| Medium | 0.5° to 1° |
| Light | Not suitable |
These tail wing angles are suggested starting values. Every rider will find their own optimum angles depending on their weight, height, technique and racing style.
The iQFoil is designed for racing in the one design iQFoil Class.
The Carbon version is supplied with a carbon mast and is suitable for Men and Women divisions.  
 The Aluminium version is supplied with an aluminium mast and is suitable for racing in the Youth division.  
 The Junior version is the same as the Aluminium version but with a smaller 800 front wing. For racing in the Junior division.
What's in the iQFoil Foil Box?
Front Wing: 
900   (Carbon and Aluminium versions)
800   (Junior version)
Tail Wing:
255 -2°
Fuselage:
115 Plus
95 Plus
Mast:
iQFoil Carbon 95cm Deep Tuttle or Aluminium V5 95cm Deep Tuttle
Other items:
1x Torx Key and a set of bolts to assemble the foil. All iQFoil foils are supplied with a Team Bag.
Activity:
| | |
| --- | --- |
| Windsurf Foiling | Yes |
| Wing Foiling: | No |
| Wave Foiling: | No |
| Wake Foiling: | No |
For additional protection, Starboard Foils Wing Covers are available to purchase separately.
Recommended Wing Cover set: iQFoil Set
In 2017, Starboard Foils introduced the Racing Foil Geometry. With its long fuselage and forward wing placement, the racing foil geometry allowed foilers to outperform classic windsurfing for the first time, thus laying the foundation that enabled the adoption of foiling in the Windsurfing Olympics.