A special wing concept that bucks the trend: a low aspect outline is mixed with a thin section to generate lift through sheer area and then switch to control and stability at high speeds thanks to the thin section - exactly the opposite design concept of thick, high-aspect wings. 
The Ocean Surf series are for wing foilers who are willing to sacrifice some low-end power and stall-resistance at low speeds for more top-end stability and performance. 
Ocean Surf wing set available sizes:   2000 // 2400
WING SET + MAST SET = COMPLETE FOIL
CHOOSE YOUR MAST SET
Wing Sets need a Mast Set to make a complete foil. Choose between Monolithic Carbon and Aluminium V7:
Monolithic Carbon mast sets are available in:   72cm // 82cm // 92cm // 102cm
Aluminium V7 mast sets are available in:   72cm // 82cm
OCEAN SURF FRONT WING DESIGN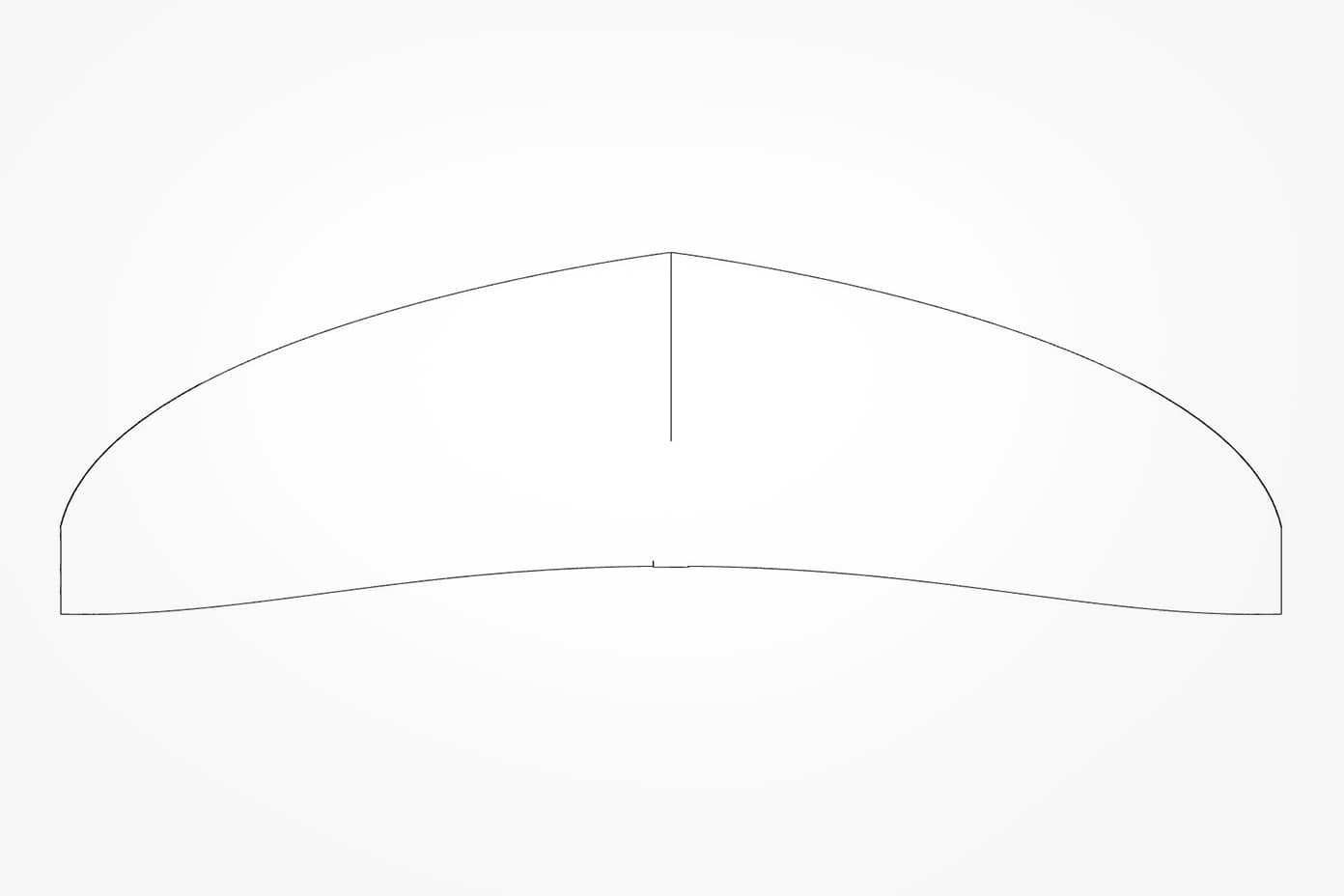 The Ocean Surf is a low aspect wing that makes it lifty and powerful. The rounded, sweeping leading edge makes it maneuverable and smooth to handle.
The monoconcave front view adds extra power by cupping the water as you take off. Once flying at cruising speeds, the monoconcave creates stability.
What makes the Ocean Surf unique is the foil section that is thinner, sharper and more symmetrical than typical wings. This creates a lift/drag curve that's also unique for wings in the 2000/2400 size: you have more control, speed and stability at higher speeds while sacrificing some stall resistance, power and performance at lower speeds.
With a dose of high-precision, high temperature CNC-milled molds, a dash of extremely high pressure and some finishing touches by a robot sander. We build  these wings in 100% high-modulus pre-preg carbon fibre using a mix of uni-directional fibres, bi-axial fibres and a proprietary ultra-light core. The wings are unbelievably light, stiff and responsive. A double overlap along the leading edge and trailing edge maximises stiffness and strength.   
Are they the lightest wings in the World?
We think so. We don't have access to all available wings but from what we've seen, the wing-building technology that took us three years to perfect puts us in the unique position of having hyper-stiff, bomb-proof wings that are the lightest we've ever seen.
FRONT WING FITTING:
QUICK LOCK HD 
The front wing slides over the fuselage and locks in place with a quick half-turn of the pressure bolt. The new HD upgrade has an extra hole for a second bolt that gives additional security for heavy duty use. 
Will this front wing work with other fuselages?
Quick Lock HD front wings fit both Quick Lock HD fuselages and Quick Lock fuselages. They won't work with Wind Foil fuselages that use the saddle system.
The tail wing sits on a carbon tail piece that has an adjustable rocker saddle. Set the tail wing to your desired angle then slide it on to the fuselage. The tail piece locks in place using our patented Quick Lock system, just like the front wing.
"Extremely convenient for someone who wants to build their gear simply and quickly. In fact, it's a foil tester's dream. Ridiculously simple and fast process. Threaded sections all sit in small removable stainless steel casings. It's an incredibly well thought out system." Foiling Magazine, Issue #6
MORE LIFT, NEUTRAL OR MORE SPEED?
TRIMMING YOUR TAIL WING
More angle gives more lift. Less angle gives more speed. Once you've trimmed the tail wing angle to your liking, simply tighten the two bolts. There's no need to undo these bolts again. The tail wing and tail piece stay together, ready for Quick Lock assembly / disassembly.
TAIL WING / TAIL PIECE DESIGN
The Wave 270 is our original tail wing that is a classic and established design. Compared to the Razr 250, it has more yaw-stability and slightly less top-end speed.
The tail wings are made from 28 layers of high-modulus carbon, pressed at high temperatures under tremendous hydraulic pressure for maximum precision, stiffness and performance.
The carbon tail piece is available in sizes 31 or 36, we chose the 36 for the standard wing set since the 36 adds more stability while still offering plenty of maneuverability and reactivity.
The Ocean Surf wing sets are wings designed generate lift using their large surface area and then switch to stability and  control at higher speeds thanks to their thinner section. 

Available sizes: 2000 / 2400
Combine the wing set with either a Monolithic Carbon mast set or an Aluminium V7 mast set to make a complete foil.

What's in the Ocean Surf Wing Set Box?
| | |
| --- | --- |
| Front Wing:  | Ocean Surf 2000 / Ocean Surf 2400 |
| Tail Wing: | Wave 270 |
| Tail Piece: | Carbon 36 |
| Other Parts: | Bolts and Torx Key |
| Wing Spans | 2000: 90cm / 2400: 105cm |
Activity:
| | |
| --- | --- |
| Windsurf Foiling | No |
| Wing Foiling: | Yes |
| Wave Foiling: | Yes |
| Wake Foiling: | Yes |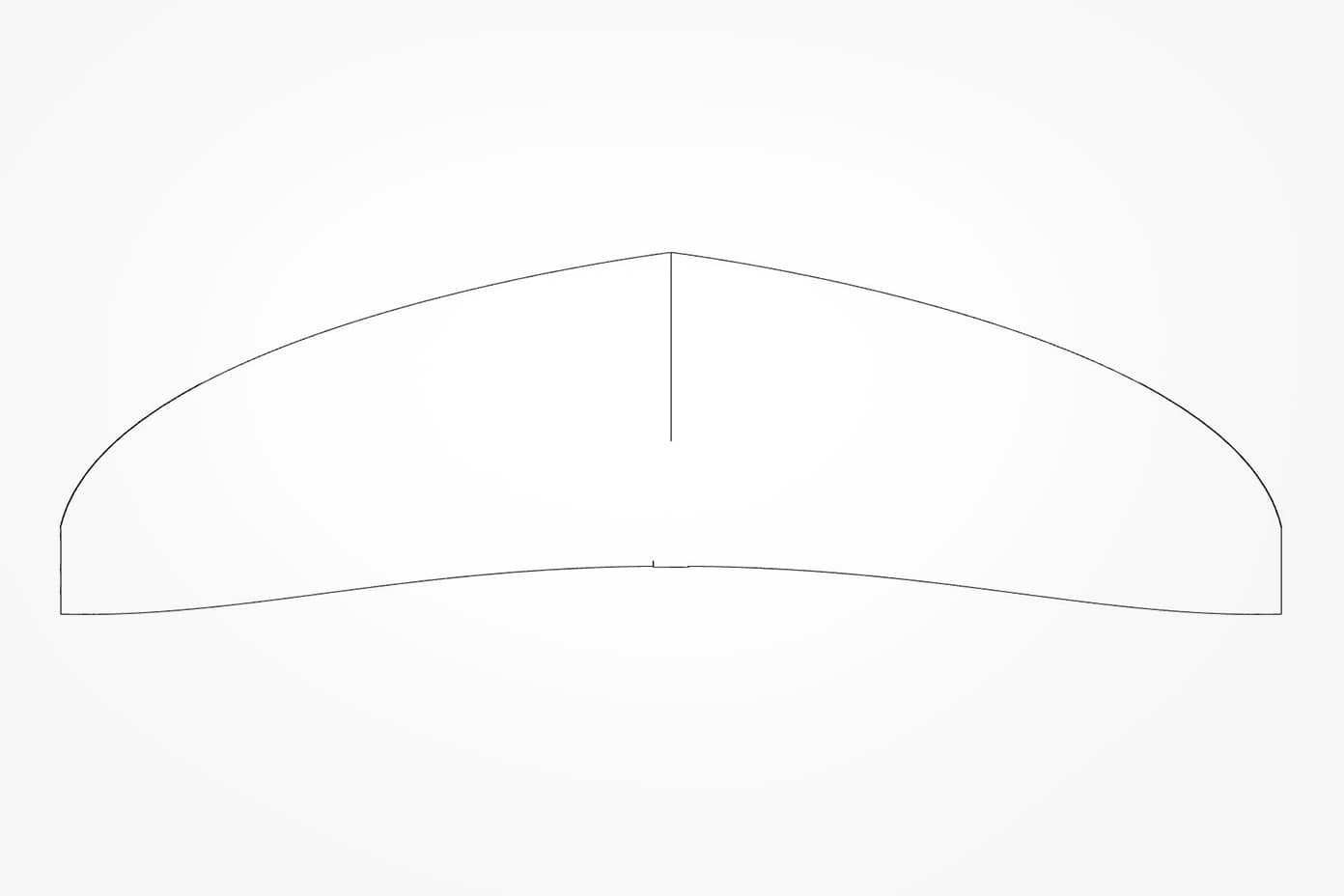 For additional protection, Starboard Foils Wing Covers and the Starboard Foils Team Bags are available to purchase separately.
Recommended Team Bag size: 
XXL - 107cm x 37cm x 16cm
Recommended Wing Cover size: TBA
What mast upgrades are available?
Wing sets need to be paired with a mast set to make a complete foil. There are two choices: the Aluminium V7 mast sets offer maximum strength and stiffness and a lower price point. They are available in 72cm and 82cm lengths. The 72cm is a good all-rounder while the 82cm is suitable for those looking for more ride-height. Then there are the ultimate masts, our Monolithic Carbon series. Super light, fast, maneuverable and stiff, these offer the best foiling performance for the most efficient flight. Available in 72cm, 82cm and also 92cm and 102cm for maximum performance wing foiling.
What wing upgrades are available?
Swapping the Ocean Surf front wing for an S-Type gives you more low-speed stability, low speed maneuverability and more low end power while sacrificing high speed stability. Swapping for an E-Type will increase your low speed efficiency, pumping performance and allow you to tap more power but you'll sacrifice some high speed control and stability. The X-Type is also available, a thin, low-lift symmetrical wing offering our highest speeds and the highest level of foiling performance.
What tail wing upgrades are available?
The Wave 270 tail wing can be swapped out for a RAZR 250. This C-shaped tail wing feels faster and improves rail to rail maneuverability at the expense of slightly less yaw-stability.
What tail piece upgrades are available?
Swapping the 36 tail piece for the 31 tail piece shortens the total fuselage length. This shorter length will make your foil more maneuverable and react quicker for tighter, faster turns. For some, the shorter fuselage can improve pumping efficiency.
Can I cut down the tail piece to make it shorter?
Yes. Both the 36 and 31 can be cut down to match your personal style. After cutting it short, you just need to drill a new access hole to be able to tighten the Quick-Lock bolt inside.
How does the tail wing trim angle affect foil performance?
In general, setting it in the middle gives the best all-round performance. Most of us tinker around and end up adjusting it back to the default middle setting. If we do add tail wing angle, it's generally because we need more lift. This could be due to the board being extra long, the wind being extra light or the wave being extra small. If we reduce the tail wing angle, it's to gain speed and to improve control at higher speeds.