Maximum power, maximum upwind performance and the earliest take-off.
Available in Carbon and Aluminium
Compared to the original Race, the new Race Plus swaps the 115 Standard fuselage for the new 115 Plus fuselage. 
This new fuselage shifts the front wing forwards and reduces tail wing angle to make it more aligned with the front wing, creating what we call a High Efficiency Foil Geometry (NZ Pat. App. No. 751177). With both wings flying through the water at more parallel angles, you release more speed, you get quicker acceleration and more control.
"It's like someone released the handbrake" Gonzalo Costa Hoevel, PWA Foil Champion. 
For racers looking for even more VMG upwind, a 115 Plus Plus fuselage is also available as an upgrade item. This places the front wing even further forward.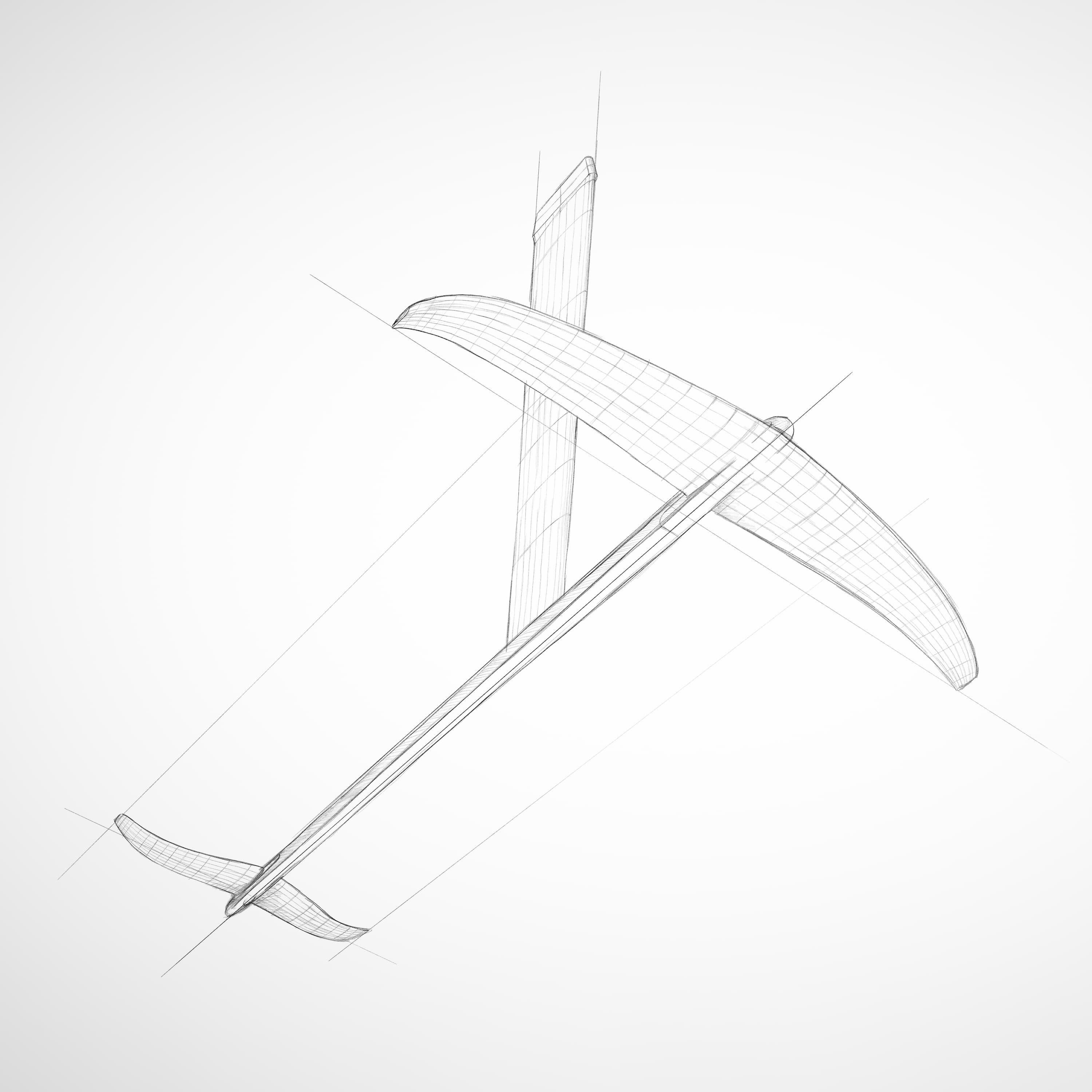 HIGH EFFICIENCY FOIL GEOMETRY - HOW DOES IT WORK?
Conventional Foil
In the diagram above, the weight of sailor and sail is producing an anti-clockwise moment. The foil creates an equal and opposite clockwise moment to maintain flight. Since the front wing position is closer to the mast, it has less clockwise leverage.
The tail wing therefore needs more angle compared to the front wing for the foil to generate enough total clockwise moment. More tail wing angle = more drag.
High Efficiency Foil Geometry
The front wing position is further forward so it has more clockwise leverage. The tail wing doesn't need to work as hard so it can be set at a lower angle. 
When the front wing and tail wing are closely aligned, there is less drag. You fly with more efficiency, more speed and more stability.
Both the Race Plus Carbon and the Race Plus Aluminium use the same 115 Plus fuselage and the same full pre-preg carbon front and tail wings.
The 800 front wing is a high-aspect wing designed for all-round racing in medium to high wind conditions. The Tom Speer-designed profile is thin and relatively symmetrical, delivering speed with consistency. It has enough shape to provide constant lift and traction at various speeds. This is critical for negotiating low wind lulls, handling high wind gusts and making a wing you can trust all racing scenarios - overtaking, defending your line, recovering from small errors and foil jibing with confidence.
The 255 tail wing is the default tail wing for all foil racing. Thin, fast and super-efficient, it's a staple for your racing foil quiver even as it evolves. The gentle moustache shape helps with yaw-stability.
FRONT WING FITTING:
SADDLE SYSTEM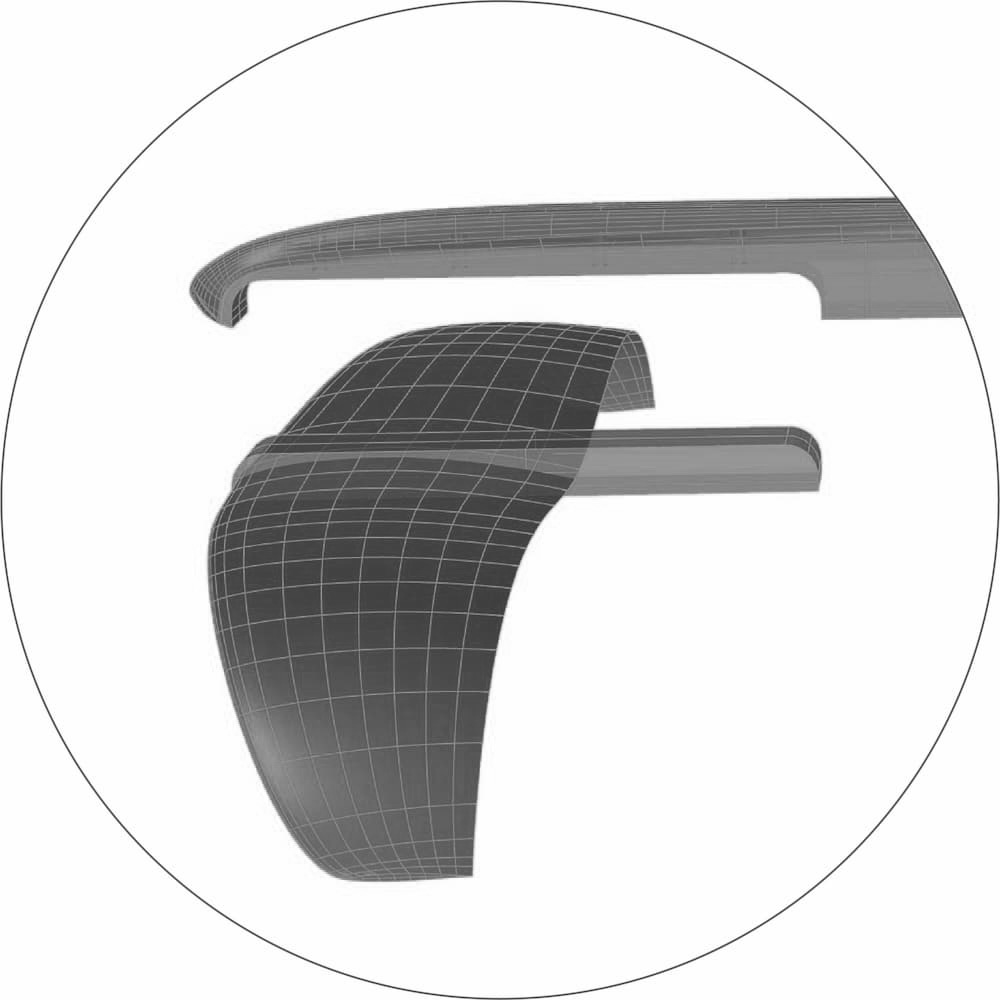 The Race Plus foil uses the saddle system for maximum connection stiffness. The front wing sits on a wide flat surface and locks in place via four countersunk M6 Torx bolts. The threads are anodized and reinforced with stainless steel helicoils for  strength and corrosion resistance. 
Will this fuselage work with other wings and masts?
Yes. This fuselage is compatible with all masts and compatible with all wings that use the saddle system. However, they won't work with wings designed for the Quick Lock system or the SuperCruiser wing.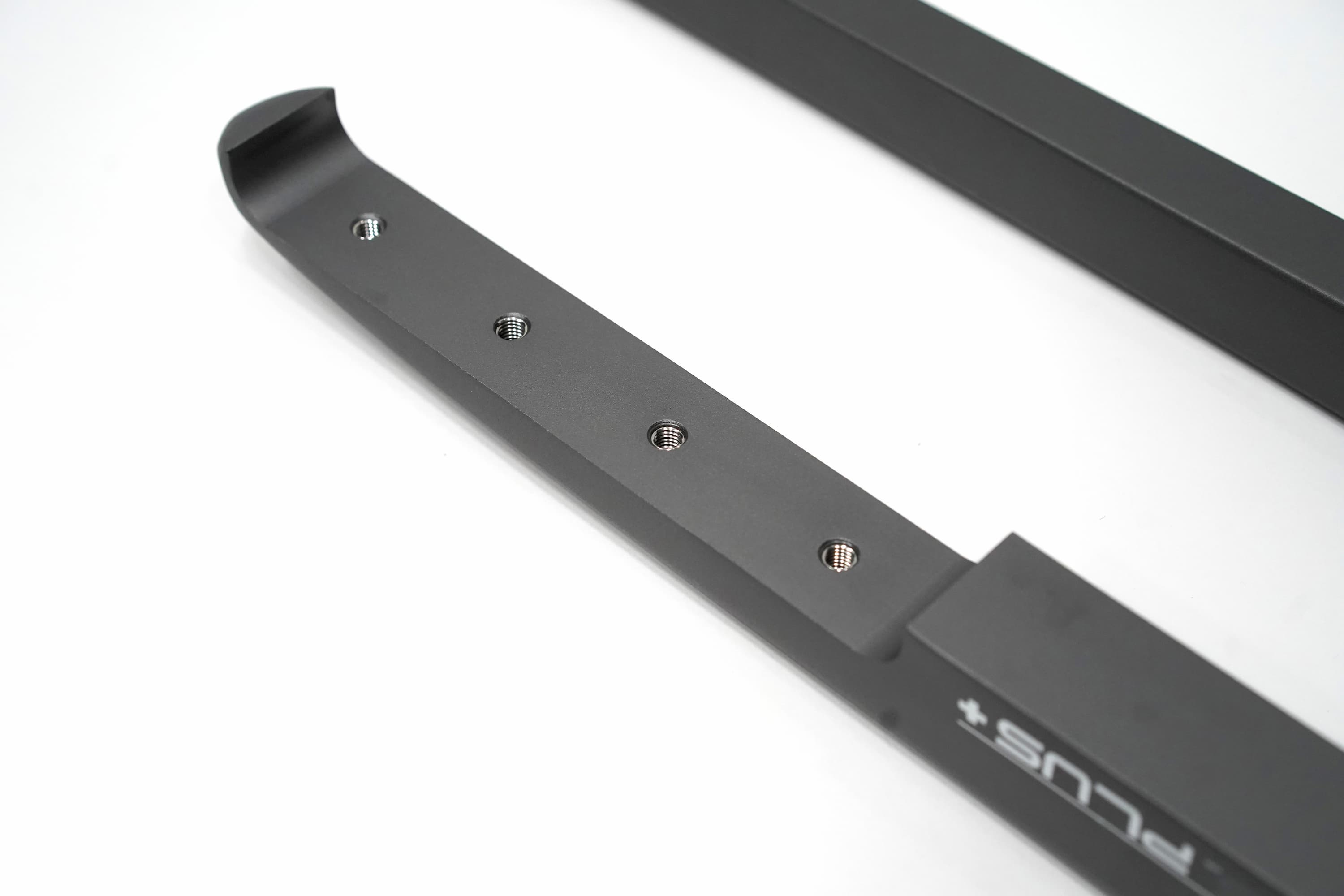 The tail wing also uses a saddle system. An angle spacer sits between the wing and the fuselage. Changing the angle spacers allows the rider to adjust tail wing angle to optimise performance based on wind speed and the desired flying configuration: more power or more control.
TUNING TIPS
TRIMMING YOUR TAIL WING
The 115 Plus fuselage is supplied with six angle spacers ranging from -2 degrees to +1 degree. By default, we recommend starting with the Tail Wing Angle Spacer of -1.5 degrees or -2 degrees for the Race Plus
| | |
| --- | --- |
| Wind Speed | Recommended Angle |
| 10+ knots | -2° |
| 8-9 knots | -1.5° |
| 7 knots | -1° |
| 7 knots | -0.5° |
| 6 knots | 0° |
| 5 knots | +1° |
These suggested tail wing angles are based on the 255 tail wing and 800 front wing. Your optimum tail wing angle may differ depending on your tail wing size, your body weight, sail size, sailing style, personal preferences and front wing size.
AVAILABLE IN CARBON AND ALUMINIUM
CARBON
The Race Plus Carbon is supplied with the Carbon 95cm mast. It is built with forty layers of pre-preg high-modulus uni-axial and bi-axial Toray carbon, hydraulically pressed, heated and fused into one monolithic mast of incredible stiffness. The shape of the mast has also been optimized for flexural and torsional stiffness. Computer-simulated analysis shows the Starboard mast, by virtue of its shape alone, is already up to 52% stiffer than a traditional mast.
ALUMINIUM
The Race Plus Aluminium is supplied with the Aluminium V5 95cm mast. It is built from an extrusion of 6061 aluminium, a grade of aluminium that we selected for its strength, weight and superior corrosion resistance. The V5 is extra-strong and extra stiff, making it suitable for windsurf foiling. Three oversized I beam stringers and five 12mm stainless steel bolts carry the vertical loads.  It is even stronger and stiffer than the Aluminium V7 masts used for wing and wave foils.
The Race Plus foil is designed for maximum power, maximum upwind performance and the earliest take-off.

The Carbon version is supplied with a carbon mast and the Aluminium version is supplied with an aluminium mast.

What's in the Race Foil Box?
| | |
| --- | --- |
| Front Wing:  | 800 |
| Tail Wing: | 255 |
| Fuselage: | 115 Plus |
| Mast: | Carbon 95cm Deep Tuttle or Aluminium V5 95cm Deep Tuttle |
| Other items: | 1x Torx Key and a set of bolts to assemble the foil. The Race Plus Carbon is supplied with a Team Bag. The Aluminium version is supplied without. |
Activity:
| | |
| --- | --- |
| Windsurf Foiling | Yes |
| Wing Foiling: | No |
| Wave Foiling: | No |
| Wake Foiling: | No |
For upgrade items and suggestions, see the Custom Shop section below.
For additional protection, Starboard Foils Wing Covers and the Starboard Foils Team Bags are available to purchase separately.
Recommended Team Bag size: 
Recommended Wing Cover set: Race Plus Set
In 2017, Starboard Foils introduced the Racing Foil Geometry. With its long fuselage and forward wing placement, the racing foil geometry allowed foilers to outperform classic windsurfing for the first time.
The invention of the racing foil geometry was the breakthrough that led to two back-to-back World Titles and enabled the adoption of foiling in the Windsurfing Olympics. With iQFoil starts an exciting new chapter in windsurfing history.
What mast upgrades are available?
Available masts:  
Carbon 110 
Carbon 95
iQFoil Carbon 95
Carbon 85
Aluminium V5 95
Aluminium V5 85
A longer mast allows you to fly higher, giving you more room to handle conditions with bigger waves.
A shorter mast makes it easier to foil, allows you to have more control and leverage over your foil but makes it easier to foil out.
Upgrading from Aluminium to Carbon allows you to improve your speed, reduce weight for earlier take-off and increase overall flight efficiency.
Upgrading from Carbon to the stiffer iQFoil Carbon gives you more control and maximum flight stability, unlocking the next gear with ability to push further and with more confidence.
What front wing upgrades are available?
Available wings:
Freeride 1100
Millennium 1000
900
800
725
650
550
Wave 1700 (for SuperCruiser only)
The Freeride 1100 has a lower aspect-ratio and more sweep than the racing wings. So it offers loads of lift, it can keep flying at lower speeds and loves to foil jibe while remaining plenty fast. It's a nice wing to boost early-take off but ultimately it doesn't have the top-end speed needed for racing.
The Millennium 1000 and 900 are highly recommended to compete in lighter winds.
The 725, 650 and 550 are highly recommended for slalom foil racing.
The Wave 1700 for SuperCruiser is not suitable and does not fit on the 115 Plus fuselage anyway.
What tail wing upgrades are available?
Available wings:
500
330
255
255 -2°
255 -2° Thin
200 -2° Thin
370 (for SuperCruiser only)

The Freeride 500 is a large tail wing that makes foiling easier and more stable, and makes foil jibes easier to master, particularly through the sail-flip and feet-switch transitions. It is too large for the 115 Plus fuselage and not recommended.
The 330 is interesting for those looking for more power and earlier take off. It also opens the possibility of running a lower tail wing angle. Overall, our racers have continued to prefer running a 255-size tail wing.
The 255 -2° allows riders to reduce tail wing angle further. Combining it with the -2° spacer for example, gives you a total of -4°. Recommended especially if you also upgrade the fuselage to the 115 Plus Plus.
The 255 -2° Thin and 200 -2° Thin are recommended for slalom foiling and for speed foiling.
What fuselage upgrades are available?
Available fuselages:
95 Plus
105 Plus
115
115 Plus
115 Plus Plus
87 (for SuperCruiser only)

The 95 Plus is recommended for foiling on a reach, broad downwind and slightly upwind with speed. It is ideal for recreational fast foiling and setting your personal best top speeds. The shorter length makes the foil faster and increases pitch sensitivity: it feels less stable but this sensitivity is what gives you the ability to control sudden lifts from spurts of acceleration, avoid foiling out and keep pushing into the red zone in the hunt for more speed.
The 105 Plus is our intermediate size between the 95 Plus and the 115 Plus. Ideal for high wind slalom for heavier riders when 115cm is too powerful, and ideal for light wind slalom for lighter riders when 95cm is not powerful enough.
The 115 is the original racing fuselage before the 115 Plus replaced it. It stays in the catalogue because some riders prefer the original wing placement that produces less power and gives more control in high winds. A classic set up that remains a reference point for all racing foils.
The 115 Plus Plus is a secret weapon for maximum VMG. It shifts the front wing even further forward than the 115 Plus, allowing you to reduce tail wing angle even further. With the wing placed so far forward, we highly recommend pairing it with the iQFoil Carbon 95 mast that is stiffer and better able at handling the massive torsional forces generated by the 115 Plus Plus fuselage.
Spacers - what are they?
Available spacers:
Spacers for Tail Wing Angle - this is for all Plus fuselages. It is a set of six spacers for six possible tail wing angles.
Spacer for Carbon Mast (Square Fuselage) - this fits between the carbon masts and square-shaped fuselages such as the 95, 95 Plus, 105 Plus, 115 and 115 Plus and 115 Plus Plus.
Spacer for Aluminium Mast V5 (Square Fuselage) - this fits at the end of the aluminium mast to make the fit with the fuselage.
Deep Tuttle Spacer for Aluminium Mast V5, V6, V7 - these spacers fit at the end of the Aluminium mast to make the fit with the board's Deep Tuttle Foil Box. Three angles are available: 0°, 0.75°, 1.5°
Spacers are plastic parts that fit between the various foil parts. Tail wing spacers and Deep Tuttle spacers also allow you to adjust certain angles while mast/fuselage spacers also help to prevent corrosive reaction between the carbon mast and the aluminium fuselage.

What other items are available?
Team Bags:
Foil Bag M - 102cm x 21cm x 21cm (Freeride Plus, GT Carbon, GT-R Plus)
Foil Bag L - 122cm x 21cm x 21cm (iQFoil, Race, Race Plus, Race Pro)
Foil Bag XXL - 107cm x 37cm x 16cm (SuperCruiser)

Wing and Mast Cover Sets:
Wing and Mast Cover - iQFoil Set
Wing and Mast Cover - Race Plus Set
Wing and Mast Cover - GTR Plus Set
Wing and Mast Cover - Freeride Plus Set
Wing and Mast Cover - SuperCruiser Set

Wing Covers:
Wing Cover - 1700 Wing Cover - 1100
Wing Cover - 1000 Wing Cover - 900
Wing Cover - 800 Wing Cover - 725
Wing Cover - 650/500 Wing Cover - 550
Wing Cover - 330/370
Wing Cover - 220/250/255/270
Mast Covers:
Mast Cover - Mast 85
Mast Cover - Mast 95